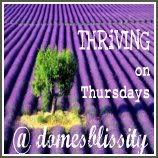 Welcome to another Thursday and Thriving on Thursdays, a place to hang out if you want to save yourself a couple dollars and make your own food, craft your own homewares, or plant your own vegies, just to name a few.
Well, you wouldn't believe what I did on the weekend. I climbed one of Brisbane's most famous landmarks, the
Story Bridge
with my sweetheart. You see, I received a voucher from my girlfriends last year for
my 'big' birthday
for a river cruise including lunch. When I went to claim it online, I saw that you could exchange it for anything like skydiving, movie tickets or bridge climbing. Why not? Arrgghhh! I don't think I've ever claimed to have been afraid of heights but at 74 metres (243 feet) off the ground, I found out that I probably am a bit. I had such a busy day and we were running late. We got 'suited up' and when we head off, walking over the highway, it hit me all of a sudden. I couldn't look down and kept moving one foot in front of the other as I climbed, breathed deeply and said to myself over and over "I can do this". Looking back at the photo now, it was quite an accomplishment but so scary. The views were fantastic from as far down to the Queenland/New South Wales state border, out to Moreton Bay and up north to the Glasshouse Mountains. A wonderful experience. Anyway, that's enough adventure for one week. Now onto last week's top 3 food and non food posts.
Thanks again everyone for linking up each week. Feel free to grab a 'featured' button from above. Now onto this week. Nothing adventurous as a climbing a bridge for me planned for this week so I'll be looking forward to seeing your exciting new blog posts!