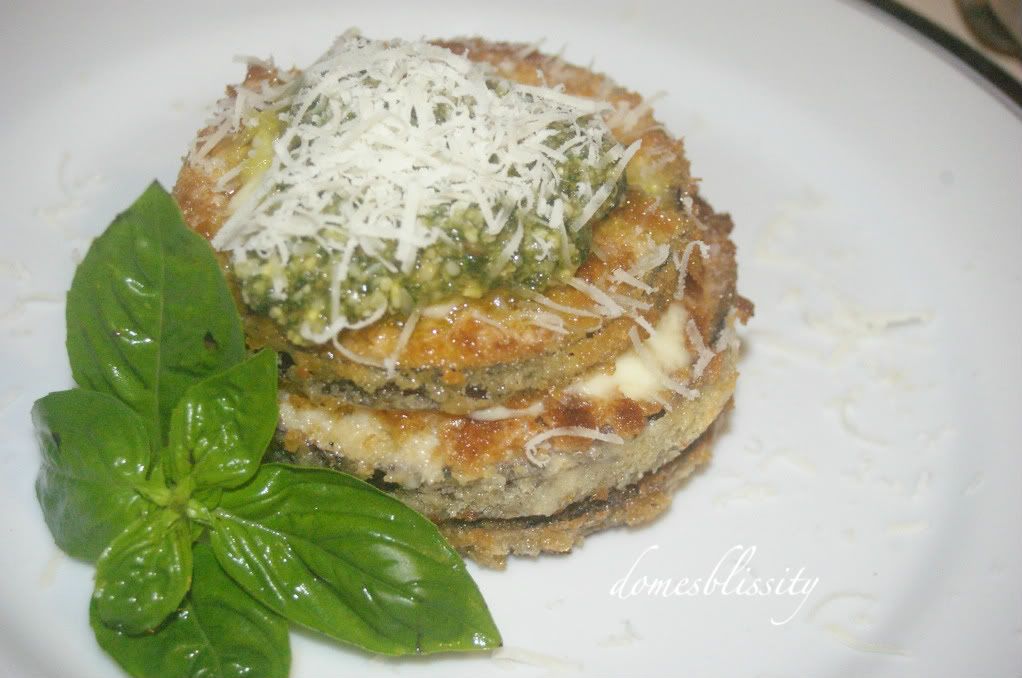 Whenever I'm out and about with my Mum, you can be assured of a nice cup of coffee and something delicious or a stop at nice deli. I'd taken Mum to an orchid show on Saturday morning and we stopped at a nearby coffee shop. There was a beautiful deli across the road and we just had to have a browse. If I could do all my food shopping here, I'd be a happy girl. (A bigger girl, but a happy one.) Funds are always tight but a few small pieces of selected deli items was going to keep me satisfied.
I bought a bunch of basil, an eggplant, a small ball of
buffalo mozarella
, a piece of
Jindi triple brie
, a few slices of
bresaola
and a small tub of different olives. Now to make the most of it. The brie didn't see the day out. It was just too lovely and the bresaola was Sunday lunch with the olives. I decided on an Eggplant Parmigiana & Mozarella stack to get the best out of these ingredients.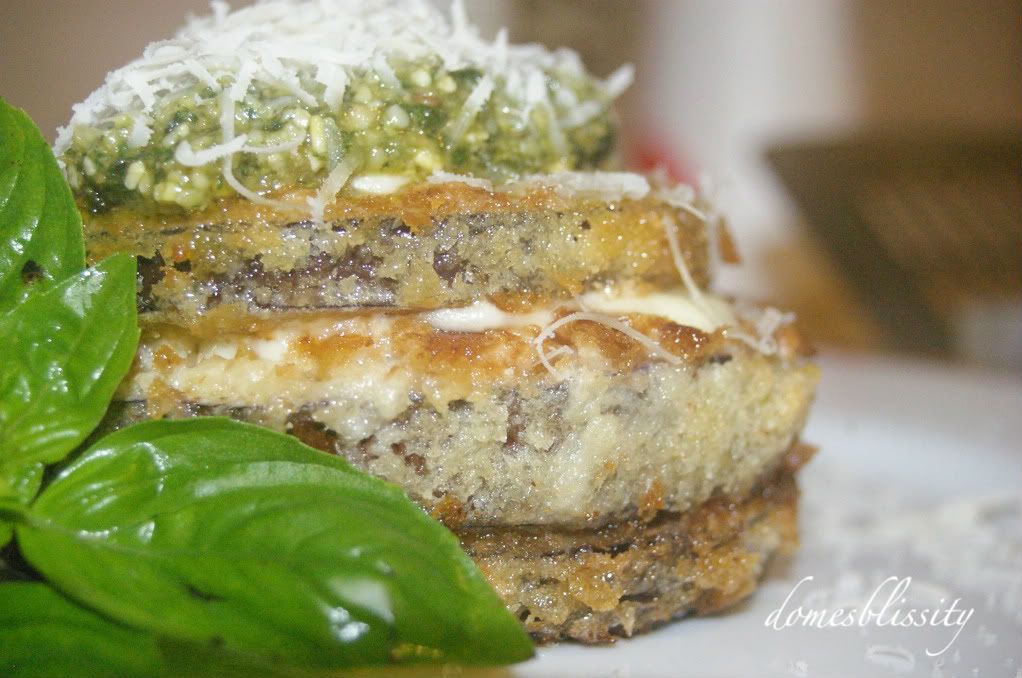 Eggplant Parmigiana & Mozarella Stack
Eggplant:
6 slices eggplant (aubergine)
1 egg, beaten
1/2 cup plain flour, seasoned with salt & pepper, for dredging
1 cup soft (or dry) breadcrumbs
extra virgin olive oil (EVOO) for frying
To assemble:
6 slices mozarella (any cheese could be used)
basil pesto
grated parmesan (optional)
Prepare egg, flour and breadcrumbs for crumb coating by putting each in a shallow container. Coat eggplant slice in flour, then egg and then bread crumbs.
Shallow fry in EVOO until golden and drain on absorbent paper.
In a small baking dish, starting with a slice of eggplant, layer alternatively with mozarella cheese, finishing with mozarella.
Bake in a moderate oven for 15 minutes until golden.
Top with basil pesto and/or grated parmesan.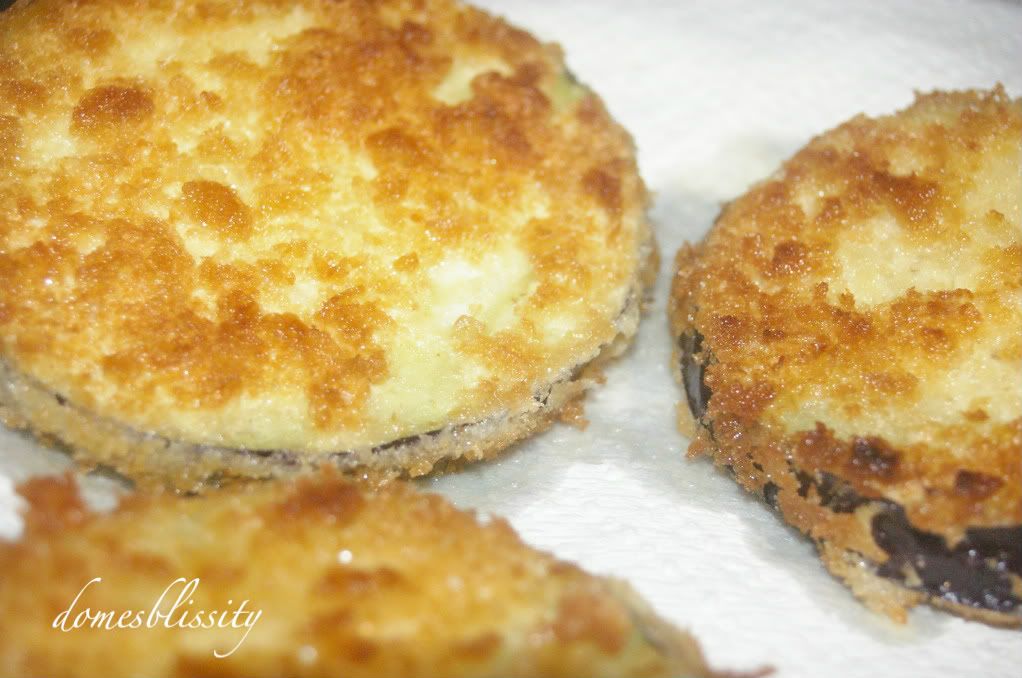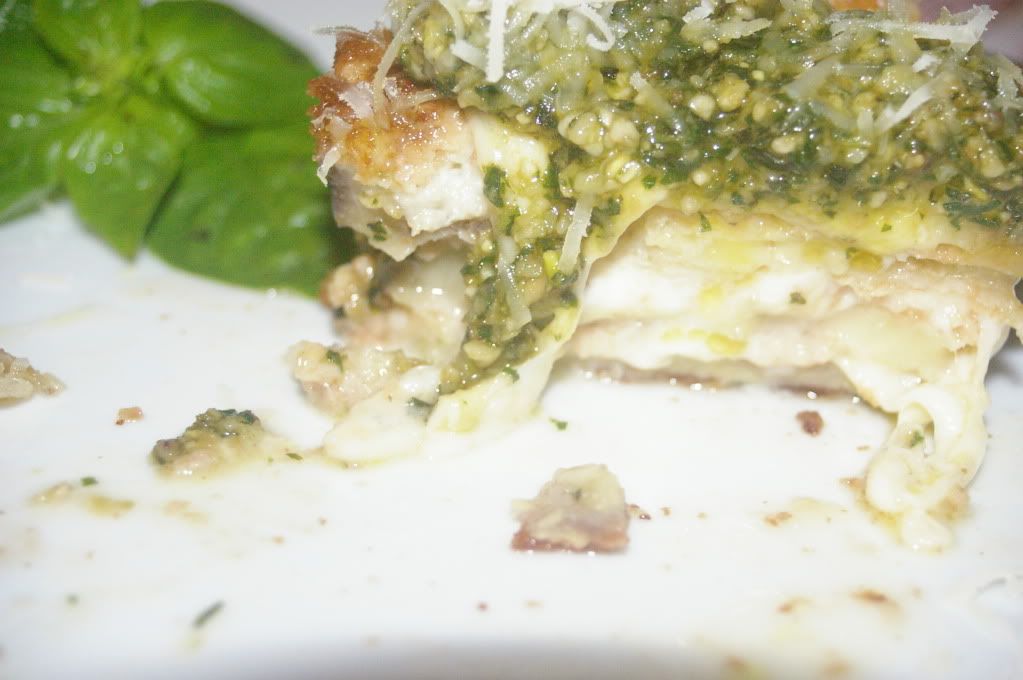 This amount makes 2 stacks. Nice on it's own as a light lunch or served with vegetables or a salad for a main meal. It doesn't hurt to pick up a few quality ingredients from time to time, using them wisely and getting the most out of them. I've still got enough of everything for another meal. Stay tuned.
Yum