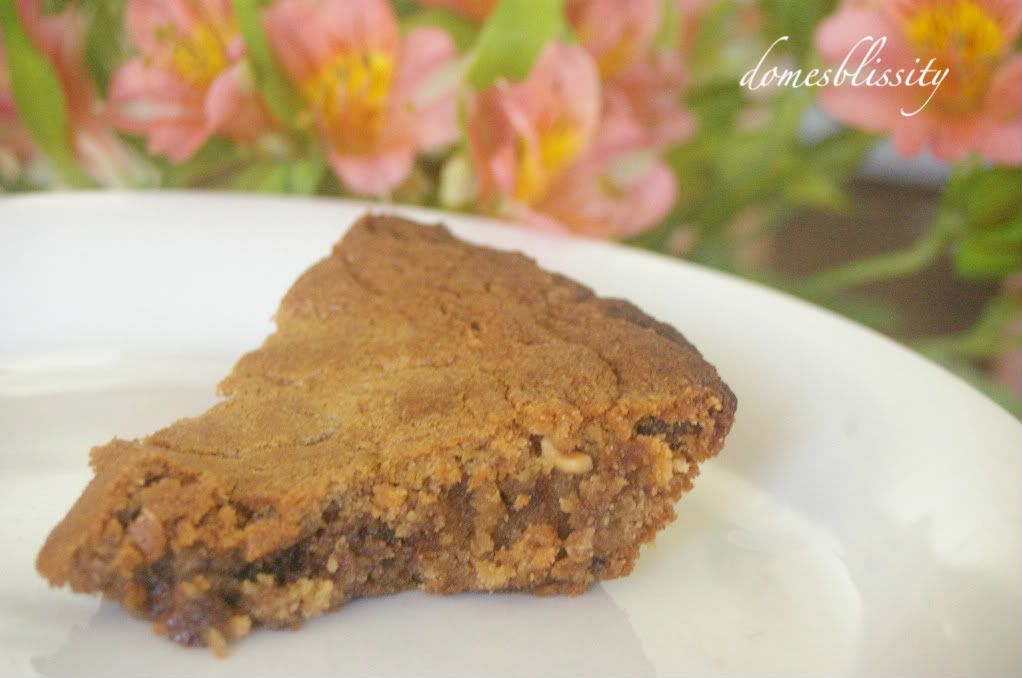 Forget about antidepressants. This will cure all! I was telling my dear friend Claire in Tasmania (my best baking buddy from wayback) how I was feeling a little down last week and she
prescribed
told me about this Peanut Butter Chocolate Chip Cookie Cake she made. How could I refuse? All of my favourite things in one piece. Peanut butter, chocolate and cake. It was so hot on the day I made it but I was willing to make that sacrifice and I wasn't disappointed. If you like a rich fudgey centre and a light outer shell full of peanut flavour and chocolate, you won't be disappointed either.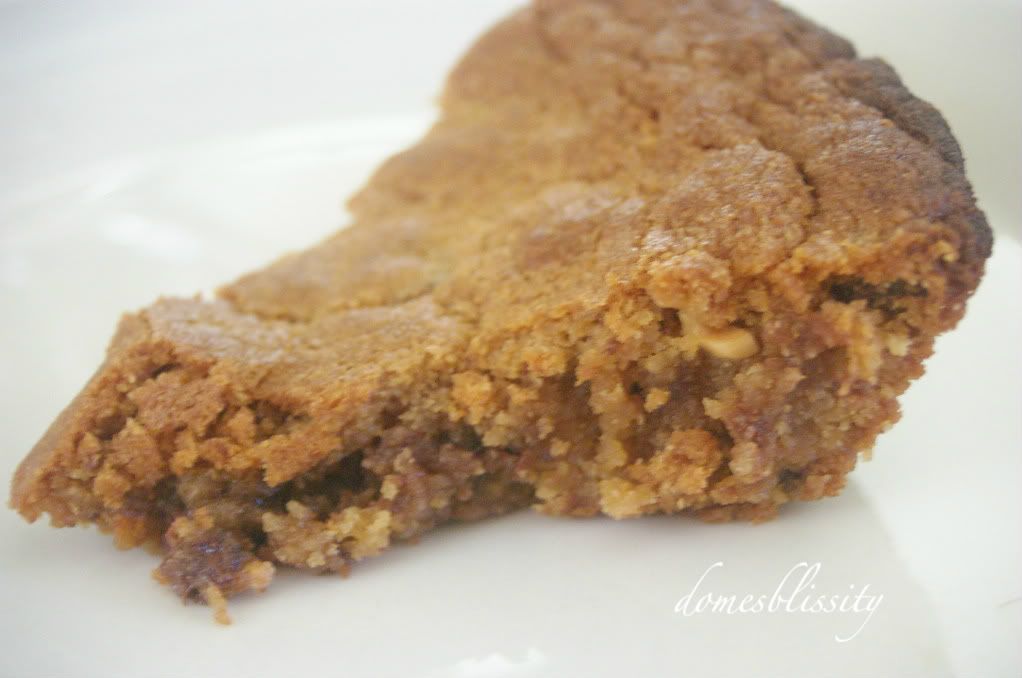 I got the recipe from a fellow Australian blogger,
Almost Bourdain
and she uses chocolate chips. I don't believe in them. If you're going to use chocolate in a recipe, it has to be chunky. You want to be able to taste it, right? I just use a block of chocolate chopped up. I very rarely use chips.
Peanut Butter Chocolate Chip Cookie Cake Recipe
(Loosely adapted from Chocolate Chip Cookie Cake - Dam Good Sweet by David

Guas

and Raquel

Pelzel

, as seen on
Lemonpi
)
85g butter, softened
1/4 cup smooth peanut butter
100gm chocolate, roughly chopped
1 cup plain flour
1 1/2 teaspoons baking powder
1/4 teaspoon salt
1 cup light brown sugar
1 teaspoon vanilla extract
1 large egg
Preheat the oven to 180 deg C. Whisk the flour, baking powder and salt together in a medium bowl and set aside.
Cream the butter, peanut butter, light brown sugar, and vanilla extracts, then add the egg.
Add the dry ingredients.
Add the chocolate and mix for a few seconds until combined.
Scrape the batter into a greased and lined 10-inch round cake tin or pie plate.
Press the batter into a smooth and even layer in the pan. Bake until lightly golden and puffy around the edges (the center should still feel quite soft), 18 – 22 minutes.
Yum