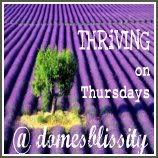 Welcome to another week of Thriving on Thursdays where I get to feature all your fantastic recipes, crafts, tips, hints and anything else associated with thrifty living (or just sheer brilliance). I'm always keen to see what everyone gets up to. But first, here's the most hit links, not food related, from last week's party.

Bonnie from Revolutionaries came up with this fantastic idea to turn a used
shampoo bottle into a sponge holder
. How fantastic is that? I've got this one at the top of my 'to do' list and I've got just the bottle in mind, large enough for a sponge and a brush. Thanks Bonnie! You're just too clever!

Katie, The Imperfect Housewife (hardly) is up to her old tricks again with another amazing activity for young children with a
DIY Find-it Bag
. Thank you Katie for another great tip! You just keep those ideas coming through.

Lisa from Big Little shared this gorgeous
Butterfly Pixie Hat
, just in time for the cooler months ahead downunder. Thanks Lisa. It's just too cute.
And how about this gorgeous
appliqued pillowcase
by Petra over at Mami Made It. Just lovely embroidery and crochet. I know my daughter would just love something like this for her bed. Thanks Petra for sharing your lovely work.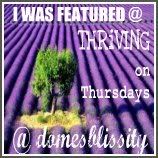 If you've been featured here or at my Sunday evening Recipe Roundup, feel free to grab my 'featured' button. And now, let's see what you've been up to this week.