I've never met a pasta dish I didn't like and this is definitely one of them. I could eat this every night. Spicy, salty, sweet, cheap, tasty and full of flavour. Ticks all the boxes. It was supposed to be my dinner Sunday night but didn't make it. I had pikelets from the freezer instead. I was just exhausted after a busy weekend. It took me all of about 20 minutes to make this and I have a few extras in the freezer for those Sunday nights when I'm exhausted.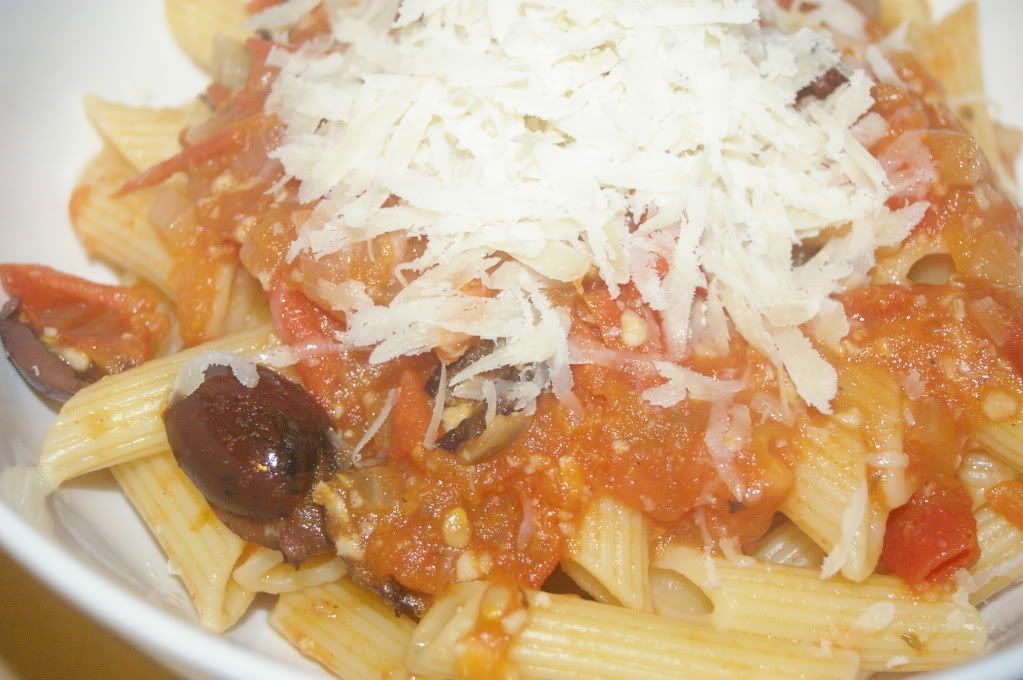 "Puttanesca" pasta translates to
whore's style pasta
, according to Wikipedia. It is a relatively new pasta dish, most likely created in the mid 20th century. It's a very simple fresh tomato sauce flavoured with chilli, anchovy, garlic, capers, olives, oregano, served with pasta and topped with parmesan cheese.
Penne alla Puttanesca
1 medium onion, chopped finely
3 cloves garlic, crushed
1-2 anchovy fillets
extra virgin olive oil
chilli (fresh, ground or flakes) to taste
1 tbs dried oregano
6-8 Roma egg tomatoes, chopped
1 tbs capers
1/2 cup olives of any kind
salt & pepper
penne pasta (or any kind)
parmesan cheese to serve
Boil pasta.
Fry onion, garlic and anchovies in extra virgin olive oil. (Anchovy should dissolve as it fries.)
Add oregano and chilli and stir.
Add tomatoes, capers and olives and season with salt and pepper.
Drain pasta, mix sauce through pasta, saving some to spoon on top.
Grate with parmesan cheese to serve.
Suitable to freeze.