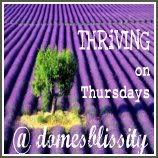 Welcome to another Thriving on Thursdays linky party. This week has flown by. It always seems to around this time of year with long weekends and days off. Gee, since I stopped working, every day is a day off, right? (You know I was joking, don't you?) Before I go and say something else silly, let's see what were the most hit, not food related posts linked up last week.

My buddy Marilyn from 4 You With Love made an
orange cleaner
a couple weeks ago and shared the results with us. Seems it is just as good as the store bought cleaner. I can smell it through the computer screen. Thanks Marilyn.

Awww, cute huh? (I'm a real dog person.) This is Chloe and she loves her
terry towelling pillow
her Mama, Barb from Turtles and Tails made. I think my two four legged friends would like one of these pillows too. Thanks Barb for sharing and Chloe is so, so cute.
And my lovely pal Trish from Mom on Timeout shares her
cost breakdown on using the clothes dryer compared to line drying your clothes
. I guess it's something I don't really worry about where I live because we are known as the 'Sunshine State' (most of the time) but we have our fair share of rain and although I do have hanging space under shelter, I have been known to use the dryer in extreme circumstances. I couple more clothes dryers or rope lines wouldn't go astray. Thanks for the information Trish! (Check with your local electricity company for your area's cost breakdowns.)
And you're not going to believe this
easy DIY Necklace
. You'll be so surprised at how easy it really is. Thank you very much to the girls from Popcosmo for submitting this idea. They have a really funky blog if you want to check it out. If you've got teen girls they will love this blog! (I think it's pretty cool too.)

Just look at the embroidery on this
repurposed blanket made into a hot water bottle cover
. I think it's just gorgeous. Lisa from the always beautiful blog, Big Little shared her "Make a Wish" dandelion embroidery design. I love it Lisa and I'm afraid I would have this on show so everyone could see it. Just beautiful.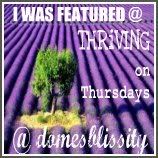 Thanks so much everyone for linking up. It's always such a pleasure to see what you've all been up to. If you missed anything from last week's linky party, be sure to go and check it out. There's so many great projects each and every week and I'd love to feature them all. You're all so talented. Feel free to grab a 'featured' button if you haven't already got one. Now to this week. What's everyone been up to? Have you been busy on Mother's Day projects?