Of all the daily chores I try to emulate and aspire to from my grandmother's day, doing the laundry would have to be high on my list but the least in which I succeed. Even with modern washing machines and fabric solutions, I still can't seem to manage to keep on top of it or get it as clean and sparkling as my mother or those before her did.
I thought I'd be saving time and money by buying a 9.5kg washing machine (imagine 6 towels, face washers and tea towels in one load) but it's the worst for getting the washing clean and it takes forever to do a load. Up until the day she died, my Mother used a twin tub washing machine (pictured above). I love them. Her washing was always super clean, she stood at the machine until the whole lot was finished (about an hour or two) and she only used 1 or 2 loads of water, depending on how dirty the water was. Even my grandmother, who lived up until she was in her early 90's, used an old wringer until it was getting too hard for her to handle the heavy sheets.
In this day and age, with all the mod cons I have available, I still can't seem to keep on top of things. One way I keep on top of the expense of having to do the laundry is buy the cheapest laundry powder available. I used to buy one of the top brands, in bulk, but then they started to reduce the kilos per box but it was still the same price. There are many DIY laundry detergent recipes on the internet. I'm yet to try any of them but I'm dying to. Anything to try and get my washing cleaner but I'm seriously thinking about getting a twin tub again. Nothing I can't stand worse is bringing in dirty washing or going to wear something and find caked on laundry powder or lint. Grrrr!
If you make your own laundry detergent and have a good recipe, would you mind letting me know. Or, if you know someone who wants a 9.5kg automatic washing machine, I know where there's one going cheap!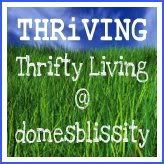 This post is part of domesblissity's THRiVING - Thrifty Living feature.