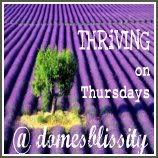 Has it already been a week? What? I swear, these weeks are just flying by. And lo and behold, the mid year toy sale brochures are on their way and from next Monday, it's only 6 months to Christmas! I challenge anyone to avoid looking at the toy brochures and maybe go back through the last 23 Thriving on Thursday linky parties for some Christmas inspiration and make your own gifts this year. I'm working on a plan this year for Christmas. I know it will still be chaotic come my kid's birthdays in November and the end of school plus other Christmas preparations, but I wouldn't have it any other way! Now, here's to the most hit, not food related, links from last week's party.
I absolutely adore this transformation of a
women's singlet to a young girl's maxi
by Adrienne of Free Time Frolics. How cute is her little girl and the colour is just so beautiful. Thanks so much Adrienne for joining in at Thriving on Thursdays and your wonderful idea.
Lori from The Stonybrook House shared with us her
photo frame turned into a coffee tray
. I have seen this done before (just can't remember where) but I just love this frame and the stencil. I'm forever on the lookout for nice picture frames but never have any luck. Thanks Lori for your wonderful idea!
Athena from Life's Abundant Adventures shared a
recipe for foamy handwash
. Even though I don't have it, my sister does and my kids love using it. It encourages them to wash their hands so I'm grateful for the recipe Athena. Thanks so much for linking up.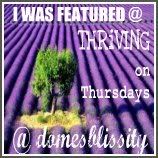 Feel free to grab my featured button, if you haven't already done so. Thanks again for so many lovely link ups. Now, on to this week.