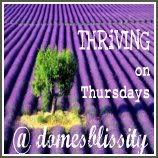 Welcome back to another Thriving on Thursdays. I'd love to be able to talk about something other than my health (or lack thereof) but sadly I'm into my third week of this terrible coughing virus. I was actually tested for whooping cough yesterday and thankfully my doctor didn't call with a positive result today which means I don't have it. Phew! The test was just awful though. Try getting your 5 year old son to have it after he watched his Mum have a 12 inch stick shoved down her throat and then one up each nostril! Yikes! Probably a good thing I didn't ask the doctor what was involved before I went there. Anyway, enough about me and now its your turn. Let's see what you've all been up to this week. Looking at last week, we had so many wonderful links and lots of people looking. Here's the most hit, not food related links from last week.
Check out this lovely
Beachy Living Room makeover
by Meeha Meeha. How cute is this? I love the fresh, cool colours against the white floors and walls with that vibrant rug thrown in for a burst of colour. Thanks so much for linking up this week Meeha Meeha. You had the most hits and there were heaps!
Hayley from Happy House Wifey shared an interesting motivation tip on the "
power of before
". You know when you've been working all day on the housework and by the time the kids get home from school, it looks like you haven't done anything? Hayley's trick of the "power of before" will help you stay motivated and what a great principle to apply to all parts of your life. Thanks so much Hayley for linking up!
Bonnie from Revolutionaries has just moved house with two roomeys and gives us the
grand tour of her new place
PLUS all the great yard sale and bargain finds she's put together to decorate the house. Just amazing what some people will sell for next to nothing or giveaway. Let's all try to look at redecorating our homes this way rather than buying new and creating more landfill. Thanks Bonnie. Great to see you again and can't wait to read more.
My lovely Aussie blogging gal pal, Sonia from Life, Love and Hiccups has the most amazing taste in just about everything and I don't know how she does it in a house full of boys but she showed us how to make this gorgeous
heart garland for her bedroom
. How romantic! Thanks Sonia. It was so great to see you at last week's linky party.
And another Aussie blogging gal pal, Stacey-Lee from Get On With It Already came up with this really great idea to
turn a book into an important document folder
. This is so pretty Stacey-Lee. I really need to do this. I've got important papers all over the place. Thanks for linking up Stacey-Lee.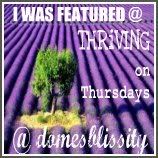 So there you have it. Thanks so much everyone for linking up. There were so many great ideas last week. If you haven't already done so, feel free to grab my "I was featured" button. Thanks too for all the lovely recipes that are linked up each week. You can find them all featured on a Sunday evening under a Recipe Roundup post and by all means, grab a 'featured button' if you want. Now, onto next week. Let's go!