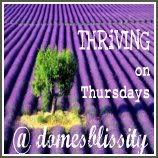 Welcome to the thirtieth Thriving on Thursdays linky party. Thanks everyone for sticking with me and let me say again how much I really enjoy reading each and everyone of your posts each week. I hate to say it but as I'm typing this my nose is running like a tap and I feel like Rudolph the Red Nosed Reindeer. I'm hoping its just a head cold and goes away as quickly as it came. Officially only 30 days until Spring and let me tell you I CANNOT WAIT! Hopefully all these cold and flu germs will take a flying leap. I'm sick of of them all, literally! Now onto last week's party. Here's the most hit link ups from last week.
Fellow Aussie blogging buddy, the lovely Sonia from Life Love and Hiccups shared an
easy canvas wall art
project she just pulled together with things lying around the home. Love your style Sonia. Thanks so much for linking up. I love it!
The lovely Barb from Turtles and Tails came up with this great idea for a making a
blue light lamp
made from a glass vase. This would look so good in any room of the home or outside on the deck. Thanks Barb for linking up last week!
Marci from Stone Cottage Adventures shared her
neat and tidy craft room
with us. I haven't been motivated to do any craft or sewing for a good 12 months because it's all over the place. I'm in the process of getting myself organised and your post couldn't come at a better time for me Marci. Thanks so much for sharing it with us all.
Courtney from Musings of an Im-Perfect Mom shows us how to make
clothes dryer balls
from yarn. I've never bothered with them before but I think I might now. Great idea Courtney and thanks for linking up.
And finally Delightful Curiosity shared this easy peasy
Raspberry Crumb Cake
recipe made from a box cake mix and jazzed up a bit with frozen raspberries and other basic pantry ingredients. Just the thing for a quick morning tea or if company is on it's way. Thanks for linking up!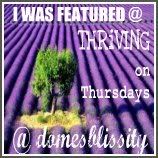 Thanks everyone for linking up. Feel free to take my 'featured' button. Now onto this week. Would love to see what you've all been up to in this Olympic week. If you've been like me, it's been quick meals from the freezer just so I don't miss a minute.