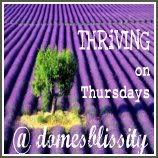 It's Thursday again (already) and time for another Thriving on Thursdays linky party. I swear that Christmas countdown widget in my sidebar skips a couple of days every time I look at it. Only 40 days to go? Unbelievable. I'll be just going with the flow this year and not worrying about things too much. It will be a very casual day for us and a time to reflect on our blessings in life. But nontheless, there's still things to organise like my son's birthday, end of school break up, a week's holiday at the beach (with our dogs as well - heaven help me) and 6 weeks of school holidays for our summer break. Let's not think about it for the moment and see what the top 3 links were from last week, both food and non food related.
FOOD RELATED
NON FOOD RELATED
20 map crafts by Too Much Time on my Hands
Pirate Crafts with Printables by Hey Mommy, Chocolate Milk
Patchwork Quilt Chair by My Turn (for us)
Thanks again everyone for linking up. Feel free to grab a 'featured' button from the drop down menu above. Now onto this week's party. Hit me with all your Thanksgiving and Christmas ideas. I need all the inspiration I can get.


Yum